Business, Financial and the Other Measures from TURKEY against Covid-19 as of March 20th, 2020 20 March 2020
Business, Financial and the Other Measures from TURKEY against Covid-19 as of March 20th, 2020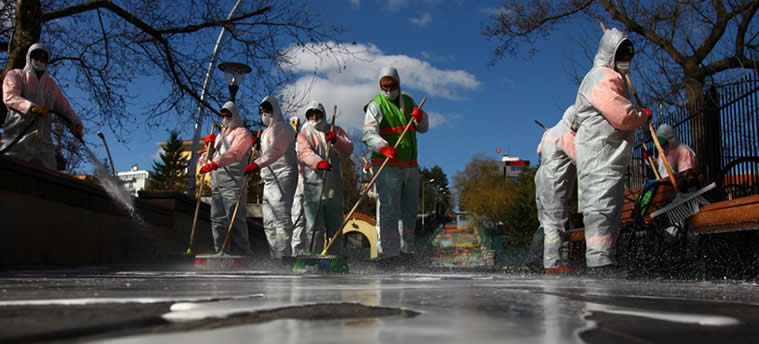 Regarding the spread of the coronavirus, Turkey unveiled an economic package called "Economic Stability Shield Against Coronavirus" consisting number of measures. It was announced that 100 billion lira (15.4 billion dollars) has been committed to protect Turkey from the financial effects of the coronavirus outbreak and many measures have been taken in various areas to prevent its spread.
A summary of the measures announced by the public authorities of Turkey is as follows;
1. Tax Measures
The payments of withholding tax, value added tax (VAT) and Social Security Institution (SGK) premiums due in April, May and June will be deferred for 6 months in the sectors of retail, iron-steel, automotive, logistics-transportation, cinema-theater, accommodation, food-beverage, textile-garments and events-organization.
Accommodation tax will not be applied until November 2020.
Payments of easement fees and revenue sharing relating to hotel rentals due in April, May and June will be deferred for 6 months.
The value added tax (VAT) on domestic airline flights has been cut from 18 percent to 1 percent for a period of 3 months.
The period of withholding tax return, including the payments of stoppage at source, will be postponed for 3 months.
2. Social Measures
Minimum wage support will continue.
It will be ensured that employers are encouraged to introduce flexible and remote working models.
Short-time Work Payment system, which provides temporary income support, will be implemented and its administrative process will be eased and accelerated.
The lowest pension amount will be increased to 1,500 lira (230 dollars).
The festive bonus of pensioners will be paid in early April. Also, the salary promotion of pensioners will be directly deposited into their bank accounts so that they will no longer have to go bank branches.
Additional 2 billion lira ($308 million) will be provided for financial aid to families in need, according to criteria set by Ministry of Labor and Social Security.
To ensure continuity in employment, make-up time compensation will be increased from two months to four months.
Alternative channels in line with the priorities determined for production and retail, in case of disruption in global sourcing chains, will be initiated.
The government is also launching a periodic follow-up program consisting of social and home health services for the elderly, i.e., those who are 80 or older and live alone.
12 days of administrative leave is to be granted to pregnant women working as public officials, as well as for those on breastfeeding leave, disabled people and staff over 60 years of age.
3. Financial Measures
The administration will increase the Credit Guarantee Fund limit from $3.8 billion to $7.7 billion, and credit will first be given to businesses and SMEs (Small and Medium Enterprise) with a collateral deficit and in need of liquidity.
The credit payments for firms facing cash flow disruptions due to coronavirus will be deferred for 3 months. Additional support will be provided to these companies when needed.
Stock financing assistance, to maintain capacity during temporary slowdown in exports, will be given to the exporters.
Turkish public bank Halkbank will postpone, for 3 months, credits, interests and debt payments of craftsmen and artisans negatively affected during this period.
The government will promote credit packages with favorable and advantageous conditions for Turkish nationals.
The amount of loans that can be taken out against residences valued below $77,000 will be increased from 80 percent to 90 percent, and the minimum payment on such loans will be reduced to 10 percent.
In the event that companies fail to meet their financial obligations in April, May and June, because they are affected by the measures introduced against the spread of the virus, it will be ensured that "force majeure" will be noted in their credit registry.
4. Other Measures
The activities in public places, such as coffee shops, cafes, cinemas, theaters, concert halls, wedding halls, baths, sports halls, indoor children's playgrounds and more, are temporarily suspended.
Turkey also temporarily suspended the activities in entertainment venues, such as bars, casinos, night clubs, museums and libraries, where many people come together.
A total of 20 countries were added to the list of countries from which flights are banned.
For citizens coming from abroad, a 14-day self-quarantine obligation has been imposed.
Off-base days for soldiers are cancelled, and non-urgent trials and other legal processes are temporarily suspended.
All arts and culture events are postponed until the end of April.
All mosques and prayer rooms are closed.
All national and international events, open and closed meetings, conferences and military exercises are also suspended through the end of April.
Activities such as general assemblies and training activities, where people are obliged to come together, have been postponed.
All competitions in four major sports: football, basketball, handball and volleyball have been postponed until further notice in response to the coronavirus pandemic.
The government will increase the number of laboratories working on developing responses to the coronavirus to 36 nationwide.
Non-urgent operations have been stopped in order to minimize the density in health institutions and to relieve the burden on healthcare personnel.